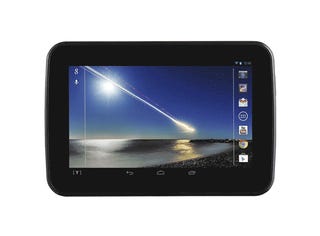 The Tesco Hudl is an Android Jelly Bean tablet marketed by retailer Tesco and manufactured by Wistron Corporation.
For those who don't know what Tesco is, it's basically the British equivalent Walmart; they sell everything, stuff is dirt cheap, and you get a lot of odd people there (I don't think a "People of Tesco" exists though), Tesco is also the second-largest retailer in the world measured by profits, right behind Walmart, according to Wikipedia. Not to be confused with Asda however, which was bought by Walmart, so is essentially Walmart in the UK but with signs saying "Asda". There are actually a few Walmarts in the UK though which are "Asda Walmrt Supercentres".
Anyway, this tablet is interesting, it's dirt cheap at £119 and sounds pretty good on paper with a 1.5GHz quad core CPU, 1GB RAM, 16GB storage (Expandable via MicroSD) and 1440x900 display, and also apparently has a 9 hour battery. It has preinstalled apps to connect with Tesco and their Club Card thing, and order groceries and other stuff that they sell, the main point of this tablet is probably for the special features in ordering stuff from their stores.
I saw this about a week ago and had never heard of it, so they probably didn't do a very good job at marketing it, it also came out just over a week ago. But I bet it doesn't work that well at only £119, that sounds pretty damn cheap to me, it's probably laggy and not very durable.
Engadget has a video on it and it actually doesn't look too bad:
(Look, Kate Middleton doppelgänger at 0:47!)
As someone who owns an iPad but would like to get a taste of Android tablets, I wouldn't mind buying it, especially at £119. I don't go to Tesco, so the special Tesco features would be useless to me, but it's still Android!
I think I'll get it...next year. I mean, I just bought an iPhone 5s. I might as well wait and see if they come out with a second one.
It probably won't go international, I bet it doesn't do well at all judging by the fact that I hadn't heard of it until last week. Here's the website - http://www.tesco.com/direct/hudl