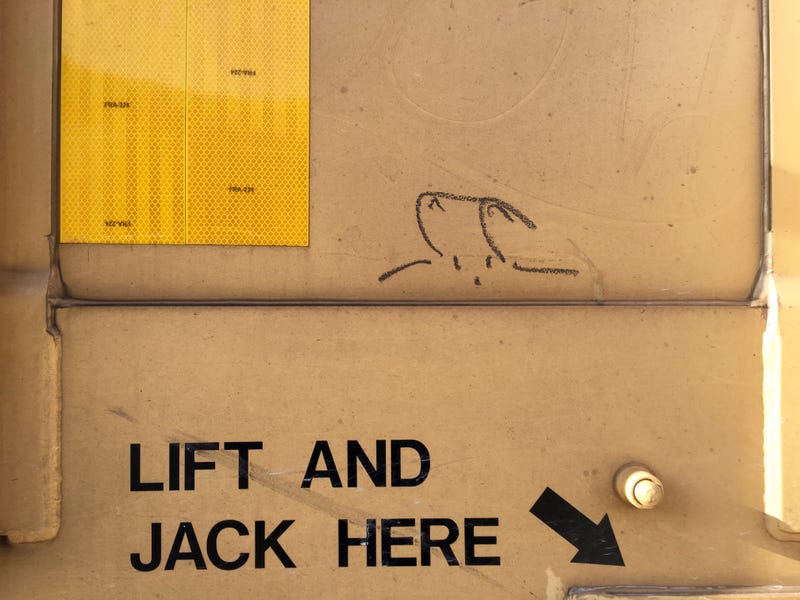 I see no way around it. The list has been pared down. It was a good week for photo opportunities. First, trains arrived that I didn't think were coming anymore; and they were admirably decorated. Then, after work on thirst-day morning (my Saturday), I went to a nearby park which was sporting a half-growth of azaleas and irises. It initially involved some discrete beer and herb, a jacket, a quiet, crack of dawn courtship/survey of grounds, and then more beer and herb behind tinted glass waiting for the sun and horizon and clouds to give me some love. A handfull of trains and flowers pictures just couldn't make it, because moderation, and the consideration of space. So there are more pictures than the usual 10 or so. It can't be helped, sorry for indulging myself. Really, there were only two beers.
Trains first.
In the upper right-hand corner, by the heart, it says 'RIP MOM'.

This guy I've seen before on other cars.
Variations upon a theme, and perhaps a name explained.
And then there's this lamp. It was some kind of oil/water filter. I pulled it from the dumpster and took it apart and cleaned it. Then I showed it to my creative electrician coworker. We thought it would make a neat lamp, and off he went. Inside the cylinder, which is slightly iridescent and laminated, is a bit of conduit, sliced intermittently, and covering a light bulb. On top is the object's float, placed there to eventually become an on/off switch.

And so now the flowers. It is Spring, which will soon give way to blazing heat so. Here.
"Coconino"

"Rosalie Loving"

"Magic Quest"

"Plainsong"
As you can see I haven't figured out how to title a picture yet. All pics iPhone 6s. I work nights, so post some, any, pics and see who else is about and around. Comments will be forthcoming.