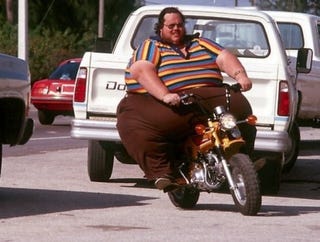 First of all thanks to all those who gave some free advice on whether or not financing was the way to go. After much careful consideration I decided to go for a used bike that I could just pay cash for - that way I get all the enjoyment and none of the "ah crap ANOTHER payment?" that comes with making a long term financed purchase.
So what did I get? I looked at and test rode a bunch of bikes, both from dealerships and private sellers. I knew I wanted a midweight cruiser, something between 600 and 1100cc, and I knew that ideally I'd keep it to 4 grand or less. I knew I wanted something in excellent mechanical condition and at least good cosmetic condition. Last thing I wanted to deal with was a fixer upper, or something I'd be embarrassed to ride in front of others. I wanted something with relatively low miles, but not something that had NEVER been ridden either, as those tend to come with their own problems once you start riding them. Final requirement was something that could comfortable be ridden 2-up, as my girlfriend is a big fan of riding "bitch seat" (unfortunately that eliminated a host of bobbers that I'd been looking at, since those by definition are solo seaters).
My first real "maybe" was something similar to this: a 2001 vstar 650 (pic below is not the exact bike, but close enough)
Was being sold by a local dealership who was asking $3900 for it. With title and tags etc it would have been 4300 or thereabouts putting it a smidge higher than I wanted to go, but still reasonably priced. The one I was looking at was red which, while not my favorite, was acceptable and had some nice aftermarket pipes on it as well as heel-toe shifters. Took it for a test ride and what I found was that the 650 powerplant in the bike just didn't give us much power as I wanted for acceleration: it felt sluggish (something that I've found seems to be pretty regular feedback on the vstar line). It looked good, but something about it just didn't feel right, so I opted to let it go.
Next one I looked at was a private seller - it would have been 3500 out the door, a 1995 sportster 883 with a 1200 conversion (yes the below is the exact bike I was looking at):
Nice looking and all that - however the ad listed it in fantastic condition, and neglected to mention the large ding (not visible in the photo) on top of the tank, the tires that had literally zero tread left to them, and the fact that the aftermarket seat was the most uncomfortable piece of crap I'd ever sat on. I know 3500 is a great price for a sporty, but the 50k+ miles on it were more than enough - combined with the tire wear, I didn't even bother to test ride it. I know how sportsters ride, and I knew that this wasn't the one. Ah the joys of craigslist sellers.
Later the same day while still browsing craigslist, I found an ad for a 2002 honda shadow ace 750 - the seller seemed motivated, as he'd recently been hit by a car (not on the bike) and would no longer be riding. He claimed the bike to be in "good" condition, but not great - citing a couple of small pits on the rear fender, and some of the chrome needing a good polishing (sounded like honesty there). Now since I'll be covering the bike but storing outside, I kind of expected things of that nature anyway, so that didn't deter me. Bike had 15k miles on it and was ready to roll out the door. Asking price $2500. I took the drive about an hour north to go take a look and, shockingly, the bike was as promised. The minor cosmetic blemishes were not of concern to me, and following a brief test ride, the bike seemed to be in darn good shape actually. Brand spanking new battery installed the week before, aging but still treadworthy tires and so on. The bike shifted cleanly, and felt like what I wanted. It rode like a bigger bike, but wasn't so powerful that I would be afraid of it.
While it was well under my budget, I knew that there would be additional expenses - for example, I didn't want to ride the bike an hour south down a highway for my first ride on it. So I'd have to pay to transport it. (**Sidebar: **Folks, if you ever find yourself in that situation, use uship.com - it was amazing! I posted what I had and where I needed it moved and watched as transporters bid on the job - it started at 180 bucks but, by the time I was ready to pick, I was down to $100 bucks to transport the bike 45 miles down a toll highway and drop it off - same day) I knew I'd need around 300 to register and pay sales tax, plus a few extra sheckles to add it to my insurance. So, for the sake of negotiating, I let the seller know I felt like $2500 was likely a good price, but more than I could afford. I told him I didnt want to waste his time or insult him with a lowball offer, but I had $2100 in cash, ready to hand him in exchange for the title and bill of sale...and folks, this is where being a relatively good dude on the internet comes in handy: his response was "You're the first non-asshole who has come to see the bike...you got here on time when you said you would, and you came with cash in hand. Bike is yours."
So, what did my money get me? Here she is, in all her glory.
And here she is outside -
What's left? Well, I just dropped $130 to order a passenger seat from a dealership, and will likely be spending a bit more for a sissy bar in the near future. On Friday she's going in to the shop for an 80 buck oil change and look over, just to make sure I haven't missed anything, and to make sure there's nothing loose that shouldn't be (better safe than sorry).
So, she needs a name - and i need help coming up with something. It should be geeky without being dorky. It should be short enough to fit onto the rear fender. It should say something about me as a geeky-type-dude, while also exuding the idea of freedom or the open road. Points of inspiration: think Stephen King. Think the Dresden Files (Lily is out as a name, as I've already named my dog Lily). Think technology new, old, and otherwise. Lets hear it peeps!