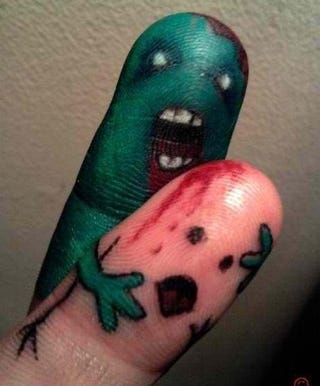 Braaainnnssss....um, no...uh.....Priiinntssssss!
Last one for 2013! I better make it good.
No one really takes a zombie apocalypse seriously. And, it is sort of ridiculous to do so, if you think about it. I mean, how do you become a zombie? You die. Then you come back to 'life' and eat people. But, that's impossible. Once your brain is dead, you're done.
**Note**
People die every day and are brought back using modern medicine. Think of people who drown, or have a heart attack. They aren't breathing, and their hearts stop, so, they're dead-ish. Under the right circumstances, dead doesn't mean dead. I'm not talking about that kind of 'death', though. I'm talking dead as shoe leather, dead. Experts say it takes about 5 minutes without oxygen before your brain stem starts to shut down. And, the stem is what controls you. Your breathing, the heart beating, any involuntary reaction, instincts, are all controlled by the brain stem. When it goes, so do you.
But, do zombies actually suffer total brain death? Medically and scientifically, they can't. Once the stem is gone, there's no bringing it back. So, zombies suffer cortex death, but not stem death.
There's just one problem with that. The brain stem still needs oxygen to function. That's why your heart and lungs are controlled by the stem. If they were controlled by a section in the cortex, that area could be damaged, and while the rest of the brain is still functioning fine, if you stop breathing and your heart stops....
And, zombies don't breathe. Their hearts also don't beat. So, there is no way for oxygen to be injected in to the system, nor for it to be delivered to where it's needed.
And, that's why I say there will never be a zombie apocalypse.
Although.....
If you don't care about a few minor technicalities.....
Theres a parasite, Toxoplasma gondii, that lives in the brains of rats. It grows, and lives happily in a rats brain. Life would be perfect except for one thing. It reproduces in a cats digestive tract, and is spread to other rats through a cats poop. And, rats tend to avoid cats. Like the plague. (hee hee...you see what I did there?)
So, to counter this, toxoplasma takes control of the rats brain, and it makes it seek out a cat. So the cat can eat it. Science calls this, toxoplasmosis.
And, 50% of humans are infected with toxoplasmosis right now.
We are fortunate, though, that we're not rats, right? I mean, if we were like rats, the toxoplasma could be a very bad thing for us, right?
Well, there is a reason medical labs use rats to test medicines on. We're actually quite similar to rats. We're just lucky that toxoplasmas don't affect us like they do rats.
However, if it mutates, humans could see a parasite that controls them, for whatever reason. And, if the cortex of our brains shut down, we would turn into a shambling, creature that could only moan, and whose basic instincts would cause them to eat and survive.
So, maybe we could suffer a zombie apocalypse after all.
And, what are the odds of it happening? Who knows. All it takes is one mutation of the toxoplasma to wreck the havoc, and then it just needs to figure out how to infect others. A bite is a very good way to spread parasites, by the way.
But I'm not worried. All I have to do is run faster than one person, or trip them, and I'll be safe. And, despite what Hollywood wants you to think, if zombies do attack, they won't be able to run. Which is good, because America is fat and has a hard time running too.