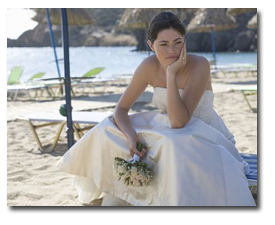 He was a jerk, anyway.
The sad, dejected bride.
No one wants to see that. Not when the wedding is so full of promise. So full of heartwarming songs. Like the first sone, the Wedding March.
Actually, it's "The Bridal Chorus" and it was written by Wagner. And it's the traditional song that is played as the beautiful bride comes down the aisle, to be joined to the man she accepted to be her husband, and they can start their long, loving lives together.
So my question is, why do they use the Bridal Chorus?
See, Wagner wrote it for his opera, 'Lohengrin'. He had the brides maids sing it to Elsa and her new husband, Lohengrin, after they were wed. And right before Lohengrin went bat-shit crazy and murdered five of the wedding guests. Oh, and then he left Elsa, who promptly dies of heartbreak.
So, tell me again why this song is used at weddings?
And, how many of you know the song 'Pomp and Circumstance'?
Only everyone who has graduated from anything, ever, knows this song.
It's actual title is, 'Pomp and Circumstances Military Marches', and it was composed by Sir Edward Elgar.
These days, we play it at graduation ceremonies. That's because the British used to play it at military graduations. And before that, it was played as the troops marched off to battle.
But, that seems odd when you consider why Elgar wrote it. He saw all the bloodshed the soldiers had to suffer through, so he wrote the song as a way of asking why the soldiers were thrown away, to die horrible deaths, in the most gruesome manner. It was kind of an early twentieth century war protest song.
It only makes sense that we should use it to celebrate a graduation then, right?
Now, raise your hand if you've ever seen a Bugs Bunny cartoon. Then you probably heard 'Ride of the Valkyries', by Richard Wagner.
It's such a 'get you pumped up' song, that it must come at the climax to the opera 'Die Walkure', right?
Wrong.
It's actually the overture the orchestra plays while people are getting settled in their seats. The climax of the song is when the curtain rises, and the opera starts. With the 8 valkyries standing around, chatting. Yup. That song that get you pumped up happens when nothing is going on. Most of it before the opera even gets started. It gets quiet when the curtain rises so you can hear the actors over the music.
Makes you wonder about the music you listen to, doesn't it? it doesn't always mean what you think it means.