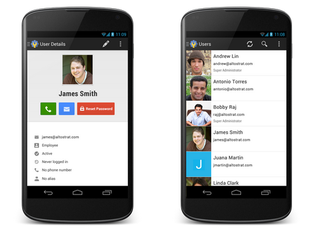 I swear I'm not a geek, but I like tech and I like Google apps. I especially like that I have 7 or 8 grandfathered accounts.
The Admin app makes it easy for admins to use their Android phone or tablet to accomplish the most common tasks—such as quickly adding or suspending users, resetting passwords, managing group memberships, and directly calling or emailing specific users.
Here's the Google Play link.
I can confirm that it works for the free accounts. Hopefully that doesn't change.
Note: You need to enable API access, otherwise it won't work.
Pros:
- You don't have to enable sync for your accounts.
- You can email your users easily.
Cons:
- There's not much you can do with it yet aside from adding users/groups, checking logs, etc.
- You have to add the admin account to your phone but at least you can turn off sync.
- You can only log into 1 account at a time.