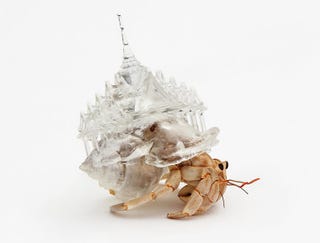 Japanese artist Aki Inomata developed these little plastic cityscapes as homes for hermit crabs. Hermit crabs rely upon finding shells to serve as protection from predators and shelter; but these shells can be in short supply.
During an interview Inomata said, "I connected my study of the hermit's transformation to the self-adaptation of humans, whether it be in acquiring a new nationality, immigrating, or relocating."
You can see more of the work here, on My Modern Met.