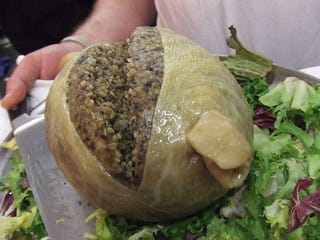 Doesn't that Haggis look good?
No, of course it doesn't. It's Haggis. Guts and oatmeal boiled in more guts.
So here are some more pictures of my kitchen.
As I said yesterday, today was for painting. And before anyone can say anything about how i didn't go all the way to the floor, shut up. Cabinets will be going there and I almost didn't paint down that far. It's not really noticeable from the pictures, but I also wasn't too careful painting around the existing cupboards. They will be coming down in a couple of weeks/months, so I don't care it I got paint on them.
Anyway, the first picture is me saying, "Aw fuck...I'm out of paint."
The second and third pictures are after I got back from the hardware store and finished. The third picture was added so you can see I didn't go too far on that last was. But it's a short wall. My oven and a 3 foot counter. We decided to leave that for now as the stove vent needs to be moved to the left about 2 inches when we put up the new cupboards, so we're removing the last counter and moving the stove then.
Also, the floor is going to get some peel and stick tiles for a temporary visual improvement. I just can't find room in my budget for the ceramic tile I want to put down. So, for $50 I can get a few boxes of cheap vinyl tiles to make it look better for a year or so. (around August of next year, I'm going to the bank to see about refinancing and getting a little bit more to redo the garage and do the floor.)
Enjoy. Now I'm having beer. But I can't have too many. I have to be sober in 3 hours for when the dump opens to the public so I can get rid of my old cabinets and stuff.