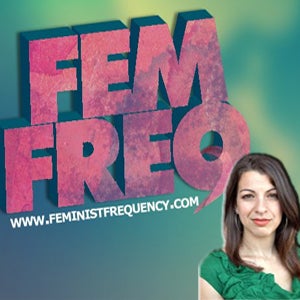 I realize sarcasm does not always come across as sarcasm. So there is no confusion, I was being sarcastic. If you follow her work, regardless if you love her or hate her, you'd know she has been making waves with her Feminist Frequency. A Youtube Web Channel and website that not only challenges video games, but tropes in general in fictional works.
In some rather positive news. The Game Developers Choice Awards has given the honor of "Ambassador of the Year" to Anita Sarkeesian. The award is given to someone who has helped move the art of gaming forward in some way.
Now a shocker to the awards, this is the first time a woman has been given the award, but it is not shocking that is it Anita Sarkeesian is the recipient, especially when you consider the struggle this woman has gone through from the start of her Kickstarter campaign to today.
Its a very sad narrative of our society when you google someones name and this image, a photoshoped imaged created by bullies, shows up as one of the top results.
---

I post this image not to shock and awe, but to show you the extreme nature of the backlash. To only mention the image doesn't quite get the feeling across. This image poses not only as a way to silence her voice, but literally poses the threat of violence against her and any woman who tries to speak out. Anita has spoken in great detail about the backlash on at a Ted Talk.
I for one am excited about the work she has done, and hope she continues to do. Congratulations Anita. You truly are an Inspiration.

update: I didnt realize it was gonna use that damn photo as the 'feature photo'. Website flaw, not mine.

update 2: doesnt seem to update either. Live and learn.... live and learn.